I am planning to BIKE ON the whole length of the mighty River Thames using a Shuttle Bike.  Navigating the tidal part seems to the trickiest, obviously with the busy River Thames. There are requirements like VHF Radio/ restrictions below bridges/ signals/ restriction zones/ Thames Skills & Knowledge endorsement etc.  Hence you need to plan this before and you need to get trained and read up before you embark on this trip.
The Port of London Authority has released the PADDLING ON THE TIDEWAY – A Code of Practice for Paddling on the Tidal Thames  . PLEASE READ this before and while planning your paddle trip on the River!
I will break the route up to the below sections.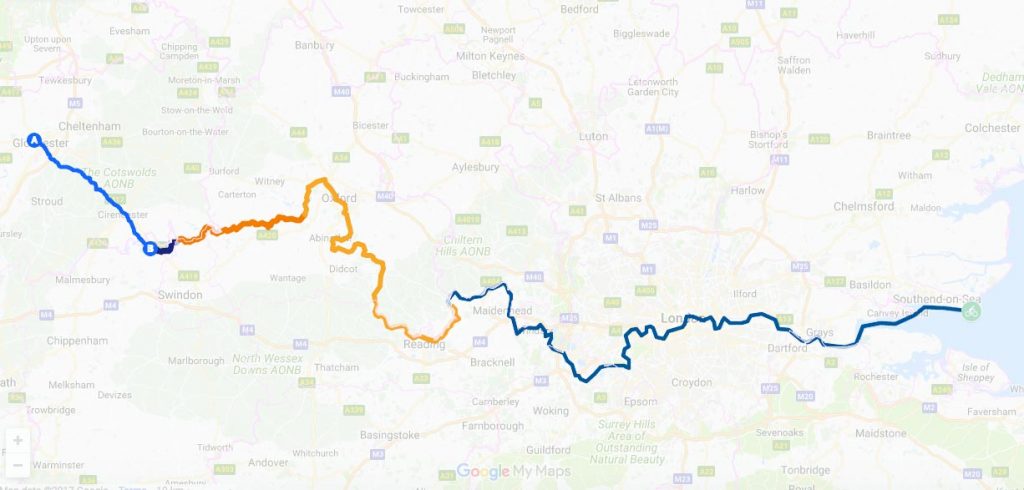 Leg 1 | Non Tidal Part | From Gloucestershire to Teddington Lock

Get a British Canoe License from the "British Canoeing"
Contact the 'Environment Agency' and let them know about your plans so that they can try to have the locks manned for you.

Leg 2 | Tidal Section   | Teddington Lock to Putney
Leg 3 |  Tidal Section  | Putney to Southend-On-Sea

VHF Required
PLA Permits required
Thames Skills and Knowledge TSK L1 & TSK L2
Read the PLA Guide which is the Bible to get to know the Thames better, learn about restrictions etc.
Hope this helps you and let me know if you are planning anything on the river or want to work with me to promote a cause on the river, be it a taboo subject like Male Suicide issues on the River Thames or a Cleaner Thames cause.
Stay Curious! Stay Hungry ! One Life ! Live it 😉