Note: The risk of reading this article is that it may inspire you with ideas that take focus away from your day job.
There is no doubt, "plastic" is high on the agenda of any corporate executive team and the corporations have launched global calls for solutions to solve the crisis.
They have found a lot of solutions but they are fragmented, scattered globally in research institutions, labs, innovation hubs and in small lifestyle businesses. These are not just new materials, new innovations in recycling but new business models rethinking the basics, challenging how things are designed, manufactured and consumed with a clear end of life strategy.
So, why are these solutions not widely available in the market yet? Why are corporates not adopting these new exciting materials and business models?
Let us explore the corporate risks in implementing these new solutions and the possible ways to de-risk and bring the solutions to market.
The risks
Costs
Firstly, in this competitive landscape the corporations are running on razor thin margins and any new investment has to clear financial viability. A lot of of CAPEX investment has been made over the years to build the most efficient supply chain and upgrading these to embrace these new, yet to be proven, solutions is extremely expensive. Besides, changing a supply chain involving multiple vendors is complex, many of whom are too comfortable to change. Hasty investment can bring these corporations down. Also, virgin plastic is extremely cheap especially with the shale gas boom and unless there is a regulatory requirement, why use expensive recycled plastic in packaging?
Unproven
It is risky for corporations to invest in new solutions since most of these new materials and business models are in the research labs and innovation hubs. The teams are still forming and ideas are still maturing with no clear product/market fit and traction. This is a classic chicken and egg scenario – unless a strong team to execute the solutions at scale is on-hand, the proposition remains highly risky. Also, in a rush to solve the immediate problem these solutions are often missing the visibility of the entire product life cycle. This is risky, since these solutions can end up creating new challenges that have to be revisited in the future. This can also become a big risk to corporations reputation.
Governance
Corporates are also bound by long-term contracts and regulatory requirements can not always take the leap with new ideas. Besides this, the decision making can be slow with multiple stakeholders and teams involved like the procurement and legal teams which may have a lower risk appetite.
So, how can corporates try out these new solutions and embrace the changes? Below are a few ways corporates can engage and test the pulse of the market.
De-risking them
Costs
There is absolutely no point in making entire supply chain changes but to trial out these new solutions with a much leaner supply chain. The classic lead time to launch a product with a retailer is 18 months minimum. We have to change this to "fail early, fail often, fail forward" – a mantra in the tech startups world. This has already started to resonate with brands like Procter & Gamble, Nestle, PepsiCo, Unilever, Mars Petcare and RB who have come together and are all investing six figure sums to be part of the trial of Loop. The focus: to test their products and market demand for reuse/refill models. At the same time they are investing in their own internal design and product innovation to learn from these pilots. Similarly M&S is trialing a non-recyclable plastic take-back scheme in the UK  amongst other pilot projects on their website and in-stores.
There is a way you can derisk all these internal investments: take a step back and become an external partner with a minority stake in a startup in exchange for operational experience, pilot venues and distribution. A £100k investment for a typical 7% equity stake in the business is not bad at all – enough for the corporation to have some skin in the game, learn from the mistakes/experiences and incentivise to help out. 10% of this investment can be claimed as a R&D tax credit later on too.
Once a startup and corporate partnership is established; there is a very strong market signal which makes grant/funding applications more robust, increasing the probability of successful funding from public entities and private funding sources like Impact Funds, Angel Investors, Classic Venture Capitalists and Family Offices. I suspect this round size will be a minimum £500k
Corporations often ignore crowdfunding as a tool. Let me remind you that corporations like GE and Samsung regularly use crowdfunding – not because they need the money but to test demand for new products and get access to new consumer bases. With so much uncertainty in the market especially around human and material behaviour – crowdfunding can be a powerful tool for corporations to derisk their initial investments. These days raising a £500k round in one of the equity crowdfunding platforms is very common especially when it comes to saving the planet.
So, now we have raised £1.1m to bring the solution to market with just £90k in the corporate books. Is this not incredible? £1.1m is decent enough to hire a great team and get on with execution. Hire the right team to execute, then you can free the entrepreneurs to sell & raise money for the next round.
Unproven
Yes, the solutions are half baked; they have an inexperienced team but they are agile, they are lean. These teams have passion and absolutely no baggage in terms of heavy CAPEX investments. They will try fast, fail fast, fail often and fail forward in ways that may surprise you.
With a 7% equity stake, now is the time for the corporate to support and help these startups with research, operations and logistics. This experience builds solid foundations with the existing corporate network and ultimately provides a pilot opportunity to help them reach product market fit. An external lens to mine the amazing corporate consumer database – identify patterns and demands  – and ultimately unlock opportunities usually missed internally. This can highlight ways to get product market fit, optimised campaigns and ideas around shared warehouses and supply chains across the ecosystem.
Governance
In this dynamic environment, what we need is lean and agile teams to try, fail, iterate and innovate solutions until success is achieved. Sometimes this is best achieved when done externally, even in a separate office far away from the main building.
Introducing a new material or a exploring a new business model is very risky for the startups. The major retailer for a start are operating on shoestring margins and there is a lot of risk to experiment and introduce a new materials in their supply chain.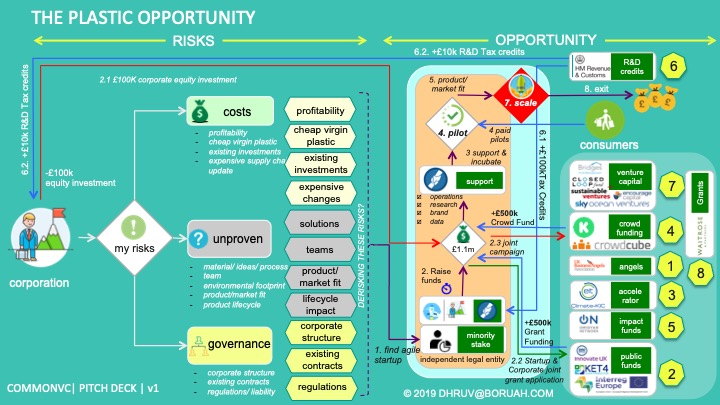 If nothing works, the corporate would have learnt a lot
Written by: Dhruv Boruah
Edited by: Gemma Armes